Oleh : Dean BZ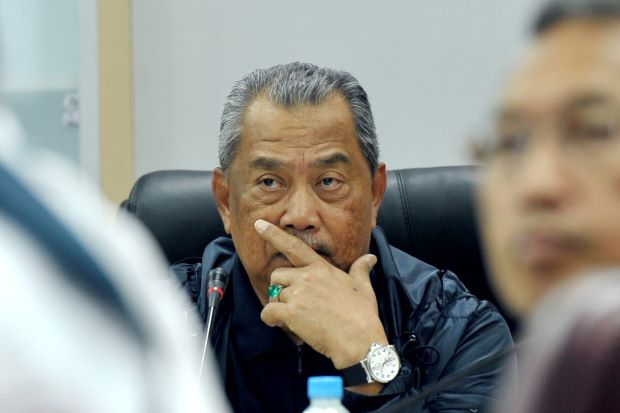 Sumber foto : www.thestar.com.my


Timbalan Perdana Menteri, Tan Sri Muhyiddin Yassin menyatakan kebimbangan beliau sekiranya pilihan raya umum diadakan esok, maka Barisan Nasional pasti kalah. Ini berdasarkan maklum balas rakyat yang makin berkurang terhadap parti itu kebelakangan ini.

"Kalau ikut kata hati saya, kalau esok pilihan raya, kita tak mungkin boleh menang. Sudah ada asas-asas kajian yang dibuat banyak pihak yang menunjukkan adalah amat sukar untuk Barisan Nasional menang. Saya tanya bagaimana kalau perdana menteri bubar Parlimen adakah kita akan menang atau tidak, tidak ada seorang pun yang menjawab yakin untuk menang," kata Muhyiddin semasa berucap pada majlis penutup mesyuarat UMNO Bahagian Cheras di Kuala Lumpur pada Ahad malam.

Memetik dari laporan astroawani, Muhyiddin turut mengakui beliau sendiri sukar memahami apa yang sebenarnya berlaku dengan syarikat pelaburan strategik negara 1Malaysia Development Berhad (1MDB).

Beliau tertanya-tanya mengenai sumber mana yang boleh dipercayai sekiranya laporan The Edge tidak boleh dipercayai.

"Orang cakap dekat saya laporan The Edge tidak betul, jadi beritahu saya apa yang betul, tidak juga diberitahu sampai sekarang," kata Muhyiddin.

Muhyiddin menyatakan tindakan segera amat perlu dilakukan untuk menangani masalah yang kian meruncing itu, jika tidak BN pasti terkubur. Beliau turut mengingatkan ahli-ahli UMNO supaya berhenti menghentam bekas Perdana Menteri Tun Dr Mahathir Mohamad kerana tindakan itu hanya mengakibatkan kedudukan Barisan Nasional (BN) menjadi semakin lemah. - CARI Infonet.