At present, there is a common problem in some low-rise workshops. The electric hoist used has a long suspension length, which limits part of the workshop area and limits the lifting height of the low-rise workshop. In response to this phenomenon, I The company recommends three low-headroom electric hoists that can be a perfect solution.
1. Low Headrooom Electric Hoist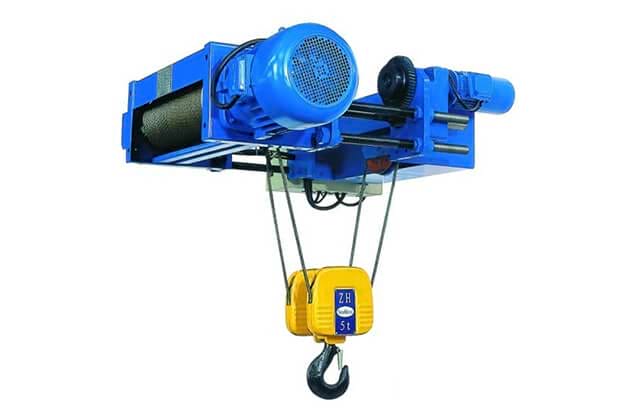 The low headroom electric hoist is transformed from CD / MD electric wire rope hoist. The product has the characteristics of compact structure, lifting single, double speed, high effective lifting stroke and stable operation. It has wide application range, especially in new factory buildings. The height of the trip can reduce the height of the building and reduce the construction cost.
Low Headrooom Electric Hoist Features
The best clearance height, compared with ordinary CD / MD hoist can increase the lifting height of 200 ~ 500mm
Excellent three-in-one transmission technology, hoist reducer is made of high-quality alloy steel, three-stage deceleration, stable operation, long life, reliable performance, avoiding many shortcomings of long-distance transmission of CD hoist intermediate shaft.
The motor has excellent comprehensive performance. The motor is specially designed for the new self-cooling cone type motor. The motor casing is made of aluminum alloy material with good heat dissipation performance. The motor insulation grade is F grade and the protection grade is IP54, which is one level higher than the ordinary motor.
According to user requirements: hoist operation, lifting single and double speed or variable frequency stepless speed control, remote control, overload protection, motor overheat protection and other functions.
The organization is exquisite, the appearance is beautiful, with many unique innovations;
The entire structure is easy to disassemble, install, easy to repair, and maintainability.

2. Euro-spec Low Headroom Electric Eire Rope Hoist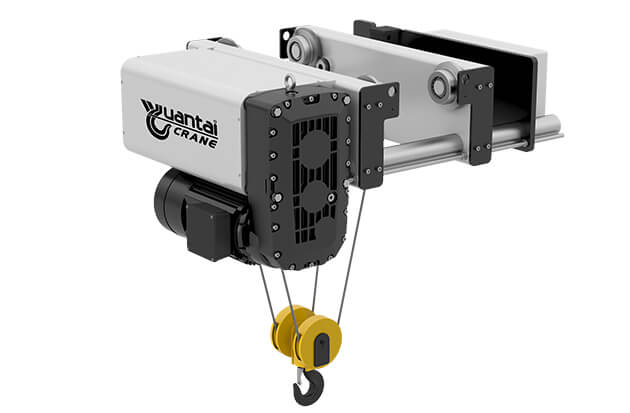 ND type electric wire rope hoist, design standards refer to GB, FEM, DIN and other industry-related standards, is a new generation of low-headroom European-style electric hoist designed and developed by Yuantai. Once the new product was launched, it triggered a strong reaction from the market. At present, the European standard electric hoist is gradually replacing the earlier domestic CD/MD type electric hoist, becoming the mainstream lifting mechanism in the industry. In the international market, customer feedback the hoists run stably, low failure rate, low maintenance cost, low noise, energy saving and high efficiency, compared with other electric hoists on the market, it is very cost-effective.
Advantage
Compact structure, light weight, small wheel pressure, maximum use of space, comprehensive cost performance
Modular design, low maintenance costs, complete spare parts service
Adopt low clearance design to save building height for customer workshop design, increase workshop hoisting area and save construction cost
Selected quality parts, low noise, safe and reliable, durable
Precise positioning, efficient operation, high sustainable work efficiency
Safe and reliable, operational monitoring, easy to repair

3. Low Headroom Travelling Electric Chain Hoist
HHBB type low headroom travelling electric chain hoist consists of electric motor, transmission mechanism and sprocket. The lifting capacity is 0.3-35 tons, and the lifting height is 3 to 50 meters. The electric chain hoist is widely used in workshops, warehouses, wind power, logistics, terminals, buildings and other occasions. It is used with single and double beam cranes, jib cranes and gantry cranes. It can be used for lifting or loading and unloading goods, also can be used for installation, commissioning and maintenance of precision molds. Operators can follow the hoist with control pendent, and also can control the hoist in control room with remote control. This type electric chain hoist can be used for fixed suspension, and also can be used with electric monorail trolleys and manua monorail trolleys.
Features
The hoist shell is light and sturdy, has a high heat dissipation rate, and is fully sealed for use in environments with poor working conditions.
Reverse phase protection device: It is a special electrical device. When the power supply wiring is wrong, the control circuit cannot work.
Limit switch: There are limit switch devices for lifting and lowering, so that the motor stops automatically to prevent the chain from exceeding to ensure safety.
Low-voltage handle switch: The handle low-voltage (24V/36V/48V) control device can prevent accidents when the switch leaks during operation.
Braking device: Braking uses disc DC electromagnetic braking, braking torque is large, stable, rapid, and low noise.
Chain: 80 grade super heat-treated alloy steel chain makes the chain more tough and more durable, ensuring safety during work.
Operating device: The electric trolley is equipped with guiding devices to make the hoist run more smoothly on the I-beam.
Aviation socket: The connection between the hoist and the trolley is safer and more beautiful.
The low headroom electric hoist has a unique and optimal structure for shortening the distance between the body and the beam rail. It is suitable for use in lower buildings, especially for temporary construction of buildings or where it is necessary to expand the effective lifting space.

The three electric hoist solution above can solve most of low workshop lifting height problems, you can tell us your workshop situation, so we can advise the suitable hoist for you.
What kind of electric hoist is good for low workshop?